So my Birthday party this year (welcome to 32, Ker) was Cuban/Latin themed... The menu included:
-tiny Cubano sammies (told you I would end up planning a party around these babies!)
- plantain chips
-fresh tropical fruit
-latin cheese platter
-chorizo and potato mini empanadas
The Cubanos were a no-brainer,
I had that down pat
... I just changed up the bread for some tiny, crusty rolls, and cut on the diagonal after grilling on the press....
Making the plantain chips was a total experiment for me... I had looked around, but every recipe was fried, and that can be such a mess!! So I decided to try baking them on broiling pans, so the heat could circulate all around the chip and it would get crispy... SUCCESS!! I sliced the plantains thin after peeling them:
and then baked them at 350 on a lightly greased broiling pain for around 10 minutes a batch, before turning on the broiler to high for a couple of minutes to finish the top side off (too lazy to flip)...
Here is the finished product on the pan: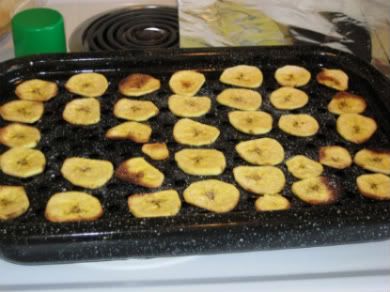 These got a sprinkling of salt as they came out of the oven hot, and then I piled them all around a bowl of pureed avacado and garlic (not as thick as guac..)
For the Empanada filling, I fried a mixture of pork and beef chorizo with a diced up potato, draining the grease SEVERAL times (this stuff is GREASY) as I went... it looked like this when finished: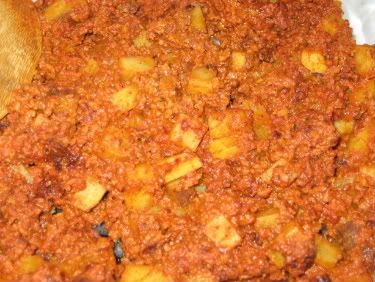 Then I just used the cheapy pre-fab biscuts in a can, flattening them out and putting a spoonful on each before folding into a half-moon shape and sealing the edges well with wet fingers... then I just baked as the biscut can directed... they turned out great, and soooo easy!!!
Add MANY pitchers of Sangria, lots of Mojitos, a few cigars, and everyone had a great time!! (Special thanks to my baker girlfriend for her amazing lemon raspberry cake... soooo good!)
Oh, and in case you hadn't noticed, the picture quality and quantity went WAY up around here, thanks to The H's birthday present, my fabulous digital camera... His other gift? A getaway weekend to San Fran, to see the sights and PIG OUT in amazing restaurants... It was freaking amazing!!
Here we are doing the "tourist thing" and eating at the Stinking Rose our first night there: